Midwest Industries was founded in 2003 by two partners in the precision machining industry, united by a lifelong belief in American-made products, American values, and the second amendment. Since the company was founded, our goal has been to provide high-quality parts with innovative features at a price point that is attractive for all levels of income.
American construction. American workers. American products. At Midwest Industries, we're committed to bringing you the best firearms and firearm components, and that means ensuring that every product is American-made to give you the reliability you need. That's our commitment to you: All of our products are made in the USA, every time, and always will be.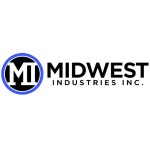 More
Midwest Industries continues to roll out innovative aftermarket accessories for a range of popular firearms, and the company has done it again with the launch of this top Picatinny rail mount designed for use on MP5-style firearms. This easy-to-install mounting surface fits the Heckler & Ko..
The MP5 is one of the most popular semi-automatic sub gun designs on the market, but finding aftermarket upgrades for the guns can be difficult at times. The Midwest Industries HK MP5M Drop-In Handguard offers owners the only enhancement they need for their firearm. The Midwest Industries HK MP..
Showing 1 to 2 of 2 (1 Pages)