Benelli's renowned reliability, exceptional quality and forward-thinking innovation set them apart. Every firearm they make demonstrates a commitment to superior technology and craftsmanship that has propelled them to the forefront of the shooting industry. When you purchase a Benelli shotgun or rifle, you're investing in an outstanding firearm engineered to provide many years of hassle-free hunting and shooting enjoyment. Our confidence in the guns we make is absolute. We invite you to experience the Benelli difference and to visit a Benelli dealer near you soon.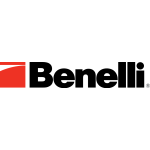 More
When the U.S. Marine Corps went shopping for a shotgun, they bought the M4 — the 12-gauge shotgun that functions the first time, every time. Its unique Auto Regulating Gas Operated (A.R.G.O.) system developed by Benelli engineers has dual stainless steel, self-cleaning pistons located just ahead of ..
Product Code:
BENELLI-SN-CM-50-SLUG
Pump-action reliability Ghost-ring or open-rifle sights ComforTech recoil reduction system or pistol-grip stock Steel skeletal framework over-molded with high-tech polymer Forend shell-stop button   Comfortech Technology Historically, if you wanted less recoil, you had to make the shot cha..
Showing 1 to 2 of 2 (1 Pages)