Here at Gun Storage Solutions we are creating products that help you to organize and store more guns. As a result, your guns and other items are more protected in your gun safe or firearms display cabinets. Traditional gun safe interiors are poorly designed, because they inherently waste space by leaning guns. Consequently, our products serve to utilize this wasted space, helping even the smallest areas store more guns.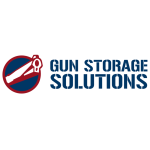 More
Kikstands give a great presentation of your inventory, allow for more guns to be displayed, and are easily accessed by sales associates.   When set at an angle, instead of flat on the shelf, more guns are able to fit in the same area. Kikstands will insure that every time the gun is taken out of th..
Duelies are both space saving and create easy access to guns.  Clear off shelf space and make room for more ammo, important documents, etc.  With Duelies, guns are easy to access and make a nice presentation. Fits as small as 22 caliber Vinyl coated Fits most handguns   Dimensions:..
Showing 1 to 2 of 2 (1 Pages)