Blazer is CCI's aluminum-cased line of ammunition that was first introduced to the market in 1981. In 1981, CCI introduced its first centerfire cartridge with the 38 Special 158 gr LRN bullet and since that time they have continued to build out the line with a full offering of affordable range ammo.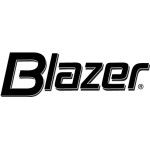 More
Product Code:
Mini-Mag HV # 0030
CCI has been loading rimfire ammunition since 1962! It is known in the shooting industry as one of the leaders in manufacturing high quality rimfire ammunition. CCI has made a reputation for delivering reliable ammunition that delivers exceptional performance shot after shot.This CCI Mini-Mag High V..
Product Code:
BLAZER-21EU
Features & BenefitsPerfect for all-around use, the CCI ® Blazer ® High Velocity Ammunition features amazing performance at an affordable price. Made in the .22 Long Rifle caliber, the CCI ® Blazer ® High Velocity ammo is equipped with a 40 grain lead round nose bullet, producing muzzle velocity ..
Blazer Brass is loaded in reloadable brass cases for added value. Standard Boxer-type primers and primer pockets mean you can reload Blazer Brass cases just like any other case. Blazer Brass is loaded with a protected-base FMJ bullet.CCI® primers insure reliable ignition, and we load clean-burning p..
Showing 1 to 3 of 3 (1 Pages)