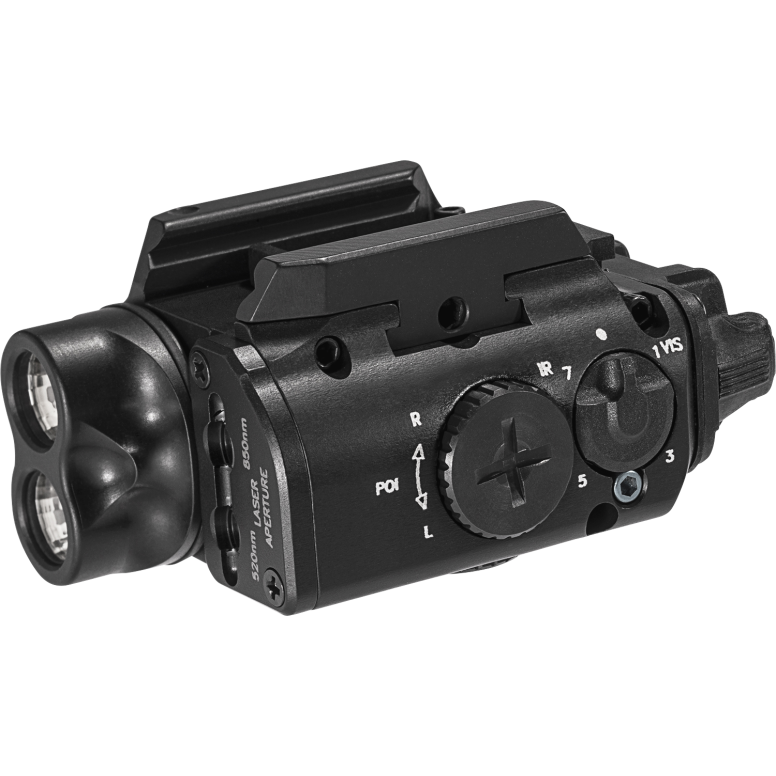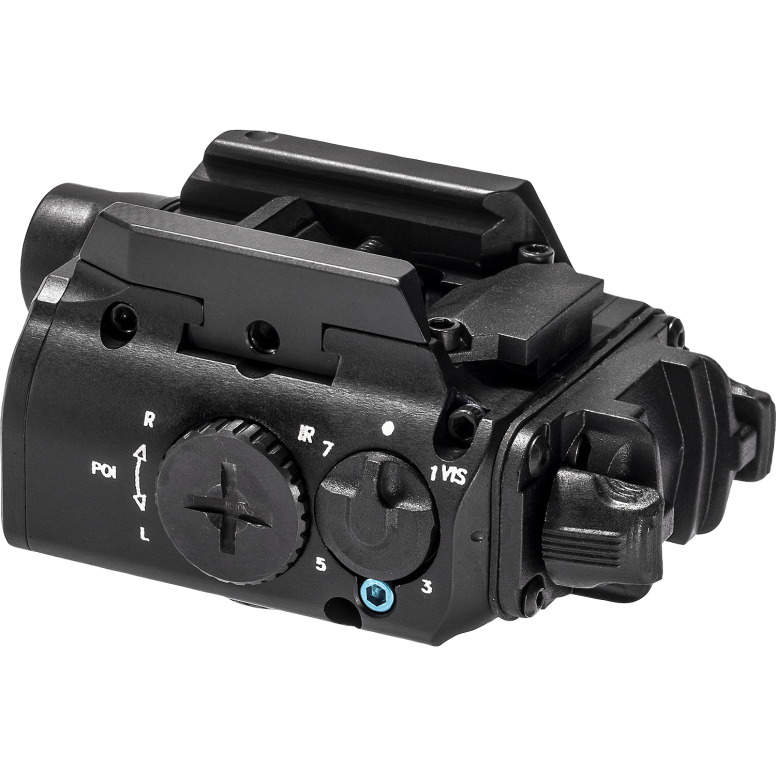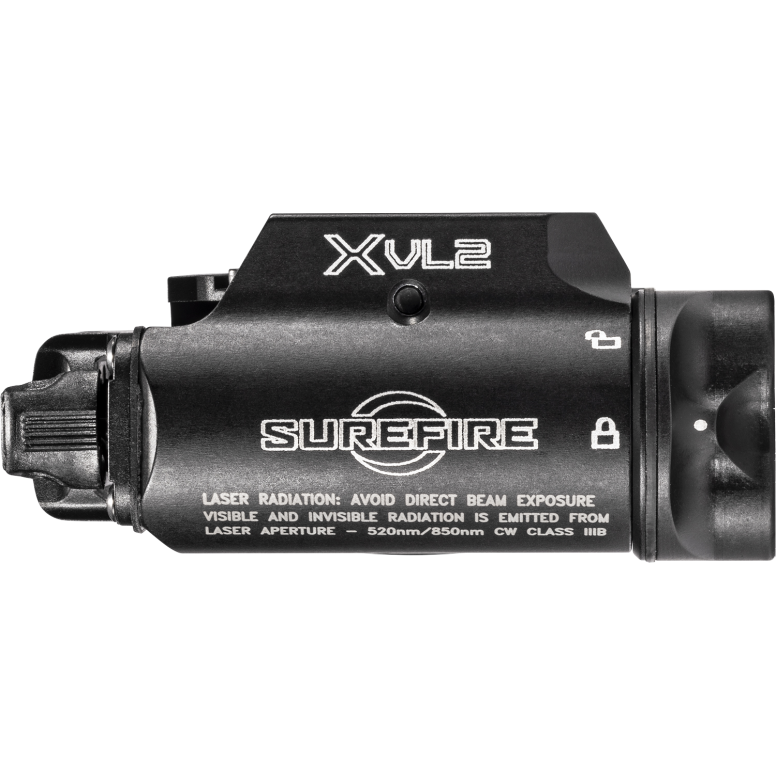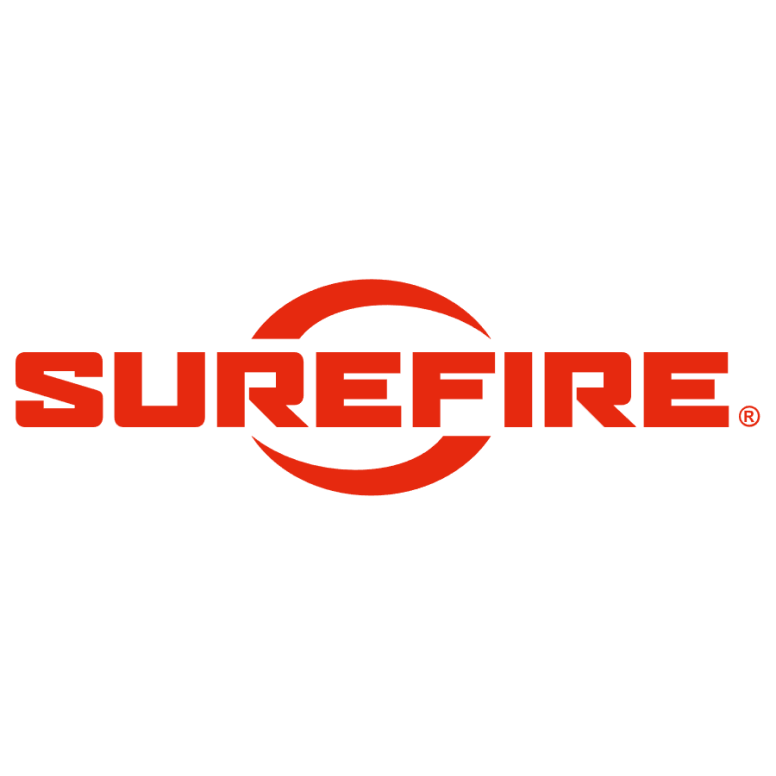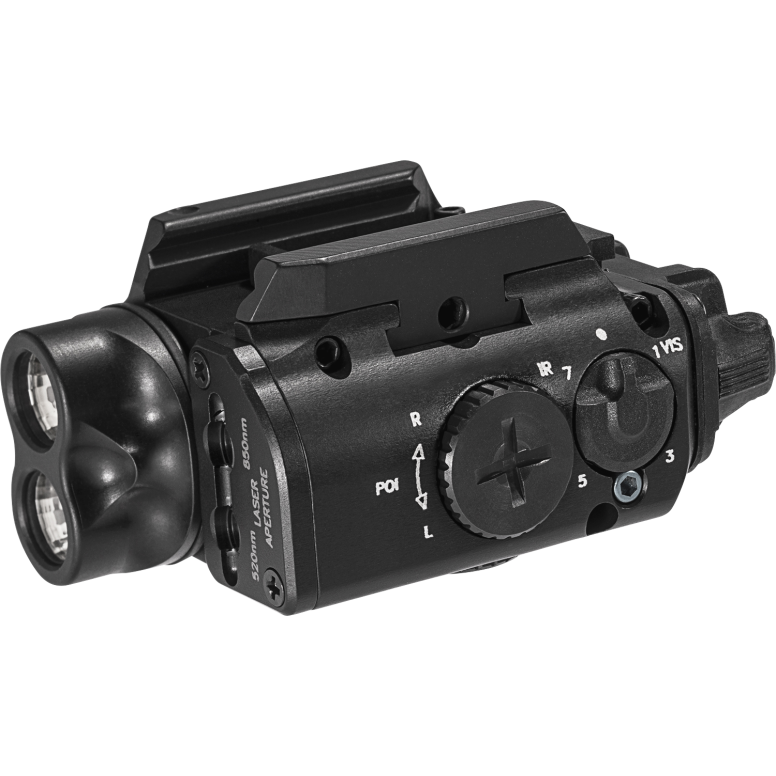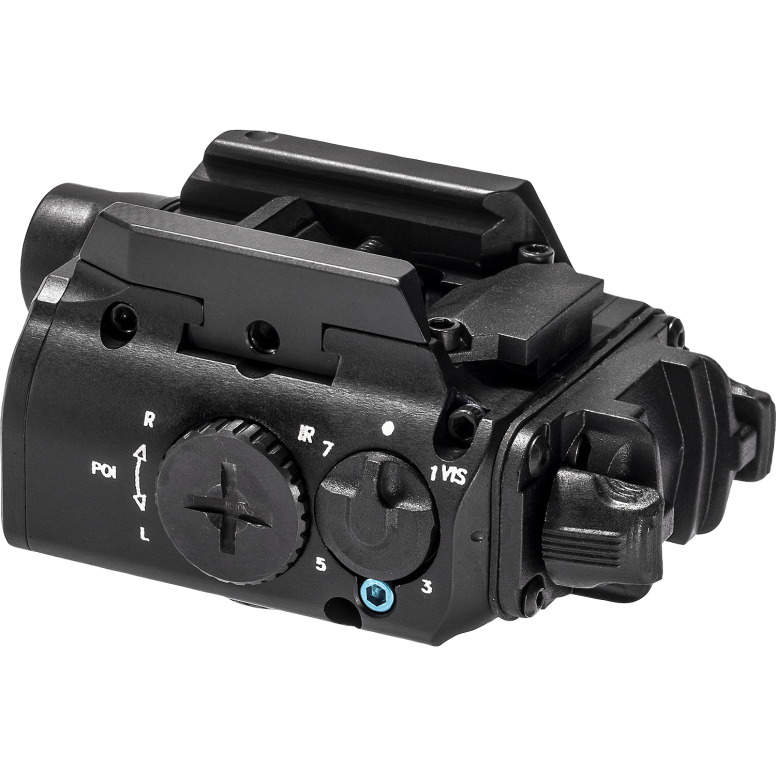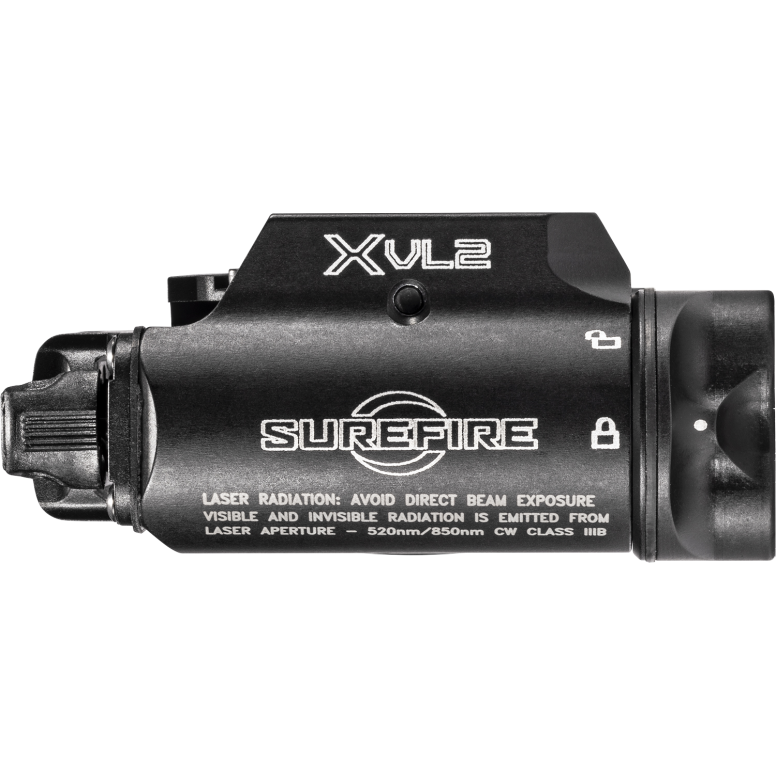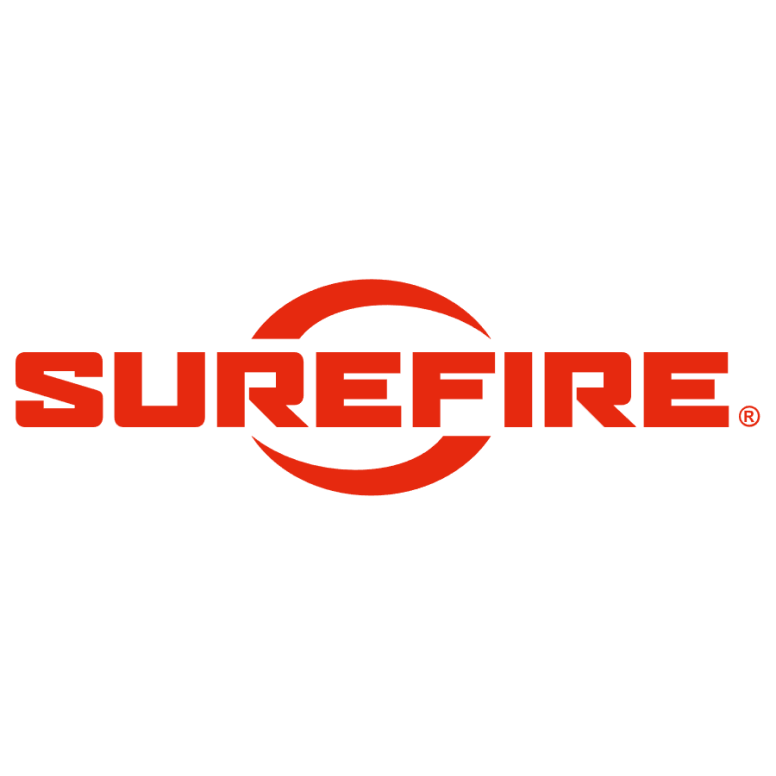 The XVL2 Pistol & Carbine Light/Laser Module system is a paradigm shift in light and aiming laser systems. Proven technological advancements in tactical illumination are key design elements in the XVL2. Custom MaxVision Beam™ technology shapes the illumination beam into one that provides the optimum mix of projected illumination plus wide angle illumination for target acquisition and situational awareness. The MaxVision Beam™ technology keeps the XVL2 profile small and weight to a minimum to maximize the efficiency and efficacy of the warfighter.
The MaxVision Beam™ head assembly is paired with a co-aligned, dual-beam visible/Infrared laser module. The XVL2 laser carriage system houses a visible green (520nm) laser and an 850 nm infrared laser. This unique carriage system facilitates alignment of the visible and infrared laser simultaneously via an x-axis and y-axis adjustment platform. The x-axis and y-axis adjustment screws are sealed to protect against water ingress and to prevent contamination from debris. The adjustment screws feature incremental milliradian adjustment.
The dual Laser/LED system of the XVL2 efficiently generates both white and infrared light from a dual emitter LED module that allows the delivery of useful levels of tactical light and efficient run times in both visible and infrared spectrums using one 123A size lithium battery. An ambidextrous, momentary and constant-on switch located at the rear of the unit's body provides redundant switching. The local switching also facilitates using the XVL2 as a handheld light if removed from the host weapon.
Features
Virtually indestructible white-light and infrared LEDs regulated to maximize output and runtime
Integral ambidextrous momentary- and constant-on switching
Attaches securely to both Universal and Picatinny accessory rails
Weatherproof O-ring and gasket sealing
Accepts optional pressure-activated remote switches for precision control without altering grip on weapon
Includes a nylon pouch to store the XVL2, mount key, safety screw key, cleaning cloth and lens cleaner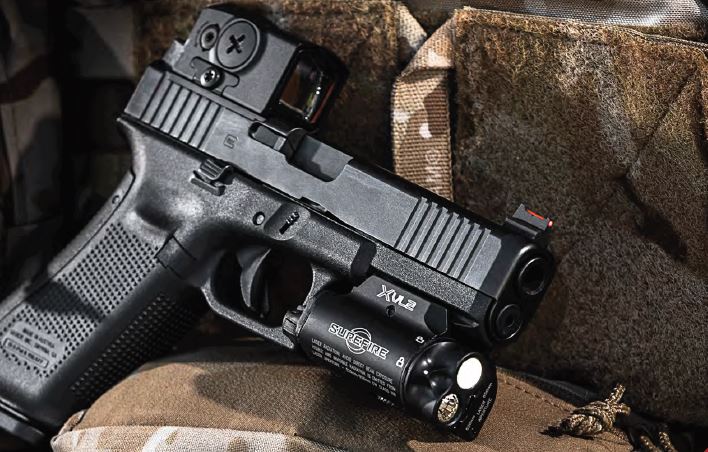 KEY ATTRIBUTES
HIGH OUTPUT: 400 lumens
IR OUTPUT: 300 mW / 850 nm
PEAK BEAM INTENSITY: 820 candela
BATTERIES: One 123A lithium (incl.)
SWITCHING: Ambidextrous push / toggle
LENGTH: 3.0 in (7.62 cm)
HIGH OUTPUT: 400 lumens
HIGH RUNTIME: 1.5 hours
IR OUTPUT: 300mW / 850 nm
GREEN LASER OUTPUT (TACTICAL MODE): <47 millWatts (+/- 10%)
GREEN LASER OUTPUT (TRAINING MODE): <5 millWatts (520 nm)
IR LASER OUTPUT (TACTICAL MODE): <3 milliWatts (+/- 10%)
IR LASER OUTPUT (TRAINING MODE): <.7mW (850 nm)
DISTANCE: 54 meters
BODY CONSTRUCTION: Aluminum
FINISH: Mil-Spec Hard Anodized
WEIGHT W/ BATTERIES: 5.0 oz (142 g)
BEZEL DIAMETER: 1.06 in (2.7 cm)
LIQUID INGRESS PROTECTION: IPX8 (66 feet, 2 hours)
NSN 6230-01-674-5624
Product Specs
Color
Black
IR Laser
YES
Lumen
400
VIS Laser
YES
Waterproof
IPX8
Surefire
SureFire is a story of what can be accomplished with light. The tale begins in 1969 when an engineer with a Ph.D. from Cal Tech decided the future lay in lasers. Dr. John Matthews founded the Newport Corporation to harness the power of the laser for industrial applications. The SureFire WeaponLight was born, and low-light law enforcement and military operations would never be the same. In the years that followed, the technically superb, but expensive, laser-sighted firearms paved the way for future developments. Laser Products went on to establish itself as the leading manufacturer of rugged, powerful and compact illumination tools for tactical applications - from weapon-mounted lights and laser sights, shield lights and baton lights to hand-held lights powerful and bright enough to qualify as "force-option" tools that could temporarily blind, unbalance, and disorient a threat. Eventually the SureFire name became so synonymous with excellence in hand-held illumination tools that the company name, Laser Products, was changed to SureFire LLC.
Show products